Samyang Develops New Biodegradable Plastics Using Isosorbide
2021.07.08
- Successfully converted oil-derived biodegradable plastics into plant-derived biomass-based biodegradable plastics
- Biodegrades faster and more durable than preexisting oil-derived biodegradable plastics, which consequently reduces plastic consumption
- Developed new materials and presented optimized compounding products based on the convergence of food and chemical technologies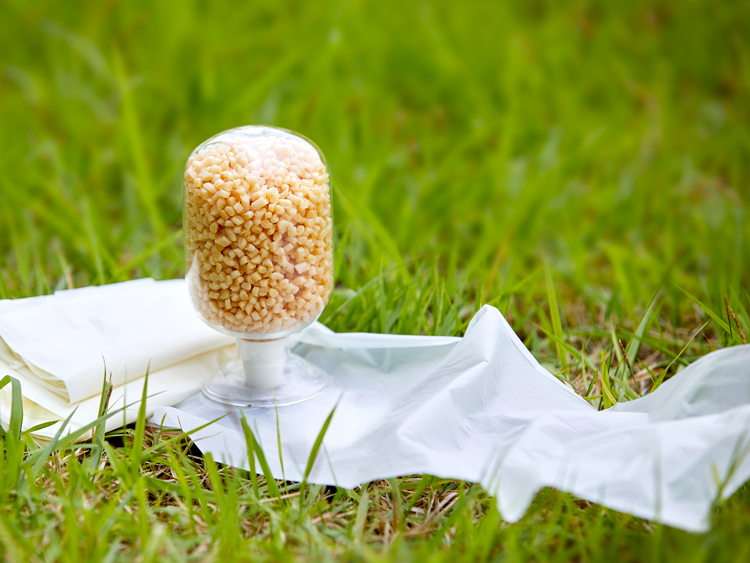 ▲The world's first isosorbide-based biodegradable plastic and plastic film developed by Samyang Corporation. This plastic film
can be used for producing disposable plastic bags, agricultural plastic mulch films (film used for covering soil to control weeds and moisture),
fishing nets, etc.
Samyang Corporation (Samyang) has developed new bioplastics using isosorbide. Bioplastics are divided into biomass-based plastics and
biodegradable plastics depending on their raw materials and biodegradation. Biodegradable plastics are plastic degraded in soil, seawater,
composting facilities, etc. Biomass-based plastics, on the other hand, are made from natural ingredients such as corn or sugarcane.
On July 6, Samyang Corporation (CEO: Kang Ho-sung) announced that it successfully developed isosorbide-based biodegradable plastics
while remedying the shortcomings of oil-derived biodegradable plastics. Isosorbide is a biomaterial produced through chemical processing of
starch extracted from plants such as corn. Isosorbide is a substitute for preexisting chemical materials used to produce plastics, paints, and adhesives.
Isosorbide-based biodegradable plastics developed by Samyang Group Chemical R&D Center contains isosorbide which is a biomaterial.
This material is more carbon neutral and degrades faster in soil than oil-derived materials. In addition, it is more durable and tougher than
oil-derived materials. Thus, it can be made into thinner films, which consequently reduces plastic consumption. Samyang's isosorbide-based
biodegradable plastics are mainly used to produce disposable plastic bags, agricultural plastic mulch films (film used for covering soil to
control weeds and moisture), fishing nets, etc.
Not only did Samyang develop the world's first isosorbide-based biodegradable plastics, but they also succeeded in developing compounds optimized
for film processing based on the convergence of food and chemical technologies. Thermoplastic starch should be compounded to process
biodegradable plastics into films. As the content of thermoplastic starch which is a plant-derived material increases, it is more eco-friendly,
but difficult to process into films due to low tensile strength.
Samyang is Korea's only company that runs both starch and chemical compound business. After two years of technology convergence research,
they finally developed the optimal thermoplastic starch compounding technology. Biodegradable plastics with biomass content that exceed 50%
meet EU's regulatory standard for biodegradable plastics and are able to enter the EU market.
An official at Samyang said, "We succeeded in developing isosorbide based on our technology convergence. In addition, we are continuously
working on developing eco-friendly plastics based on this technology. We will put forth the efforts to reduce carbon emissions by expanding
the use of biomass-based isosorbide."
In 2014, Samyang secured the commercial isosorbide production technology for the first time in Korea and the second in the world. Samyang is
building an isosorbide factory with an annual production capacity of approximately 10,000 tons at the Samyang Innochem Corporation Plant,
with the goal of completing the construction in the second half of this year. In addition, it is developing a variety of applicable technologies and
products in preparation for the completion of the isosorbide factory. In April 2020, Samyang was selected as the leader of the Biomass-Based
Biodegradable Polycarbonate (PC) and Parts Development Project supervised by the Ministry of Trade, Industry and Energy.
They are currently working on developing isosorbide-based biodegradable polycarbonates and commercializing automobile components
using this material.