Samyang Creates Biodegradable Eco-friendly Engineering Plastic
2021.05.25
- Development of biodegradable PC and parts; designated as a supervisory company for project by the Ministry of Commerce Industry and Energy
- Development of high-value and eco-friendly PC technology using starch ingredients (isosorbide) along with domestic PC production
- Reduced period of development with industry–academia–research collaboration; new challenge of developing biodegradable PC using isosorbide
- Construction under way for an isosorbide plant with approx. 10,000 annual tonnage in Gunsan, Jeollabuk-do Province; expected to
create new markets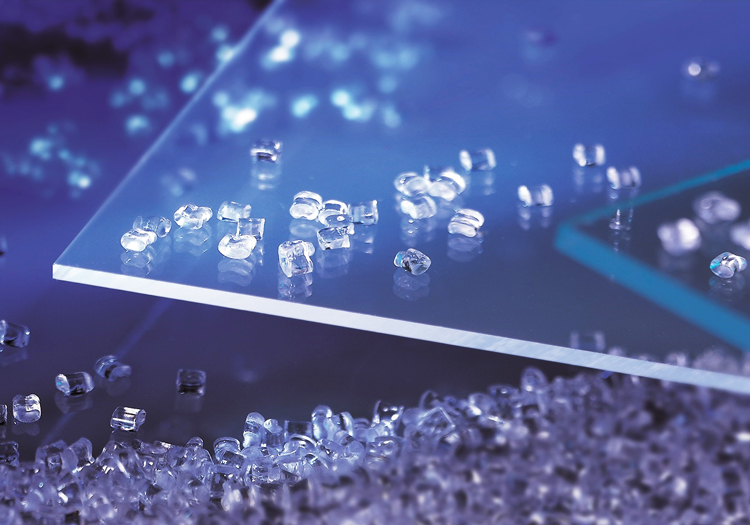 ▲ Polycarbonate (PC), an engineering plastic produced by Samyang. Due to its excellent transparency and heat resistance,
it is widely used in electric/electronic parts, automobiles, etc.
Samyang is providing a fundamental solution to environmental pollution due to polycarbonates (PC) by developing PC that is
degradable by microorganisms under certain compost conditions, such as temperature and moisture.
Samyang (CEO: Kang Ho-sung) stated on the 25th that the development of biodegradable PC using isosorbide and
commercialization of its parts are being carried out at the same time. PC is an engineering plastic which has excellent
transparency, heat resistance, and mechanical characteristics, and are widely used in electric parts, automobiles,
medical equipment, etc. As physical reuse has no price-competitiveness, it was usually buried as landfill or incinerated after use,
but the production of toxic substances during this process called for environmental pollution issues.
In 1991, Samyang became the first in Korea to produce PC, opening up a new era of "Made in Korea" PC. Afterwards,
development of high-value PC, such as silicon polycarbonates (Si-PC), which enhanced impact resistance, chemical resistance
and flame resistance, as well as high heat-resistant PC and transparent flame retardant PC were areas of focus. In 2014,
commercial production technology for isosorbide was secured for the first time in Korea, and second in the world. Isosorbide
which is produced using starch is a bio-material which can replace bisphenol A (BPA), which is one of the key ingredients of PC.
This technology was recognized, leading to Samyang being designated as the leading supervisory company for the
"biomass-based PC and parts development" project by the Ministry of Commerce Industry and Energy on the 13th.
Although there were cases of PC being developed using isosorbide, the commercialization of biodegradable PC
using isosorbide had not yet been realized.
This project led by the government has the goal of securing original technology for biodegradable PC, where development of
biodegradable PCs and internal parts for automobiles are being carried out with the participation of 12 companies, research
and academic institutions in and out of Korea. The Korea Conformity Laboratories, which takes part in approving biodegradability,
Duckyang Auto, which takes part in developing automobile parts, and domestic finished car companies take part in the approval and
parts development to speed up development. As a overseas connection project, professors of material development from
Sweden's research-based general university, Lund University, are also participating.
An official from Samyang said "Various eco-friendly specialty parts using isosorbide will be developed to expand the scope of
application for isosorbide and create new markets through active cooperation with other companies."
On the other hand, Samyang Innochem, a chemical subsidiary of Samyang Group, is currently constructing a plant for isosorbide
production with 10,000 annual tonnage, which is expected to be completed by the second half of this year. Isosorbide is a
bio-material produced by processing starch extracted from plant sources, and can be used in place of conventional chemical materials
for PCs, paint, glue, etc. Especially, plastic produced using isosorbide dinitrate displays enhanced durability, transparency,
heat resistance, etc. which makes them the ideal material for the outer casing for electronics such as mobile devices and TVs,
as well as protector film for smart phones, automobile fixtures, food containers, eco-friendly construction materials, etc.