PCM (Post consumer material) refers to a material that is recycled from consumer waste. It provides CO2 reduction.
Features
CO2 reduction effect

Eco-friendly

Waste reduction effect
CO

2

Reduction effect
Reduction effect of CO2 by using PCM material

Reduction of CO2 in 1 pine tree: 5 kg/year

Amount of CO2 generated when manufacturing 1 kg of polycarbonate: 7.6 kg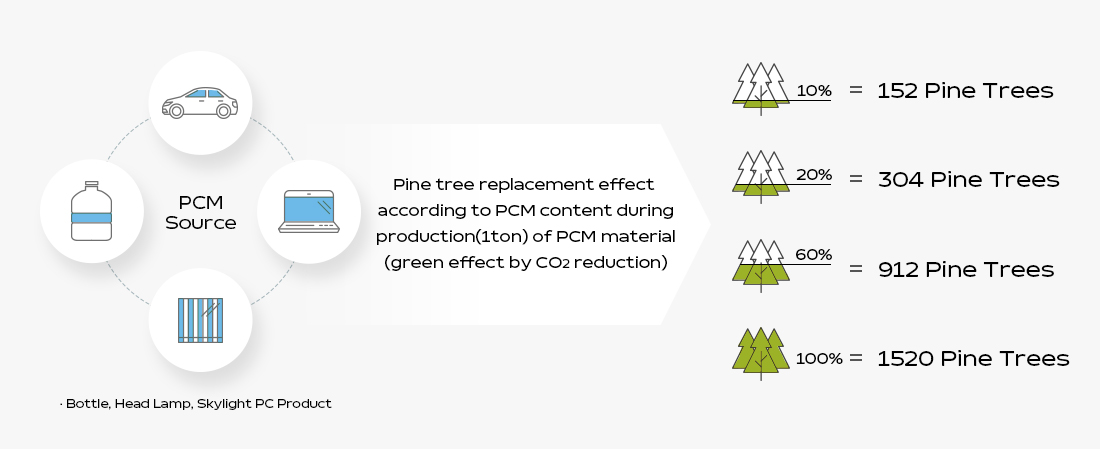 Waste reduction effects
PCM (Post Consumer Material)
Products recovered from waste generated after use by consumers
Waste reduction effect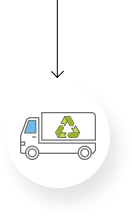 PIM (Post Industrial Material)
Products made from recycled and not delivered to consumers
in the production process
No waste reduction effect
PC/PCM(20%) VS PC
Comparison of Material Characteristics
with PCM compared to New Material
When PCM is applied, CO2 is reduced.
It has equivalent physical properties to that
of neat materials.
Applications
Charger

Earphone Housing

Notebook Housing
TV Housing

Smartphone Case
Grade
Grade
Materials
Characteristics
Applications
Datasheet
TDS
UL
TRIECO 3D30
PC
PCM
Electric&Electronic
파일
TRILOY EM230W
PC/ABS
MF Reinforced,Flame Retardance (V0)
OA
파일
TRIREX EM3022U
PC
Unreinforced,Impact Modifiered
Industrial,Electric&Electronic
파일
파일
TRIREX 3025PN1
PC
Unreinforced,Flame Retardance (V0),General
Electric&Electronic
파일
파일
TRIREX 3025GR12
PC
Flame Retardance (V0),Weather Resistance
Electric&Electronic
파일
파일
TRIREX 3025GR10
PC
Flame Retardance (V0),Weather Resistance
Electric&Electronic
파일
파일