Samyang Corporation's mass production of eco-friendly polycarbonate is in full swing
2022.08.08
- Eco-friendly and maintaining transparency and properties of common PC. Highest grade in UL 94 vertical burning test (V-0)
- Developed based on Si-PC with excellent shock and chemical resistance at low temperatures, overcoming weaknesses of previous flame retardant PC
- Targeting electrical/electronic, automotive, architecture and other outdoor markets in need of both low-temperature shock resistance and flame retardancy
- Possible to be processed in thin films such as sheets and profiles, planning to expand market by supplying base resin to compounder companies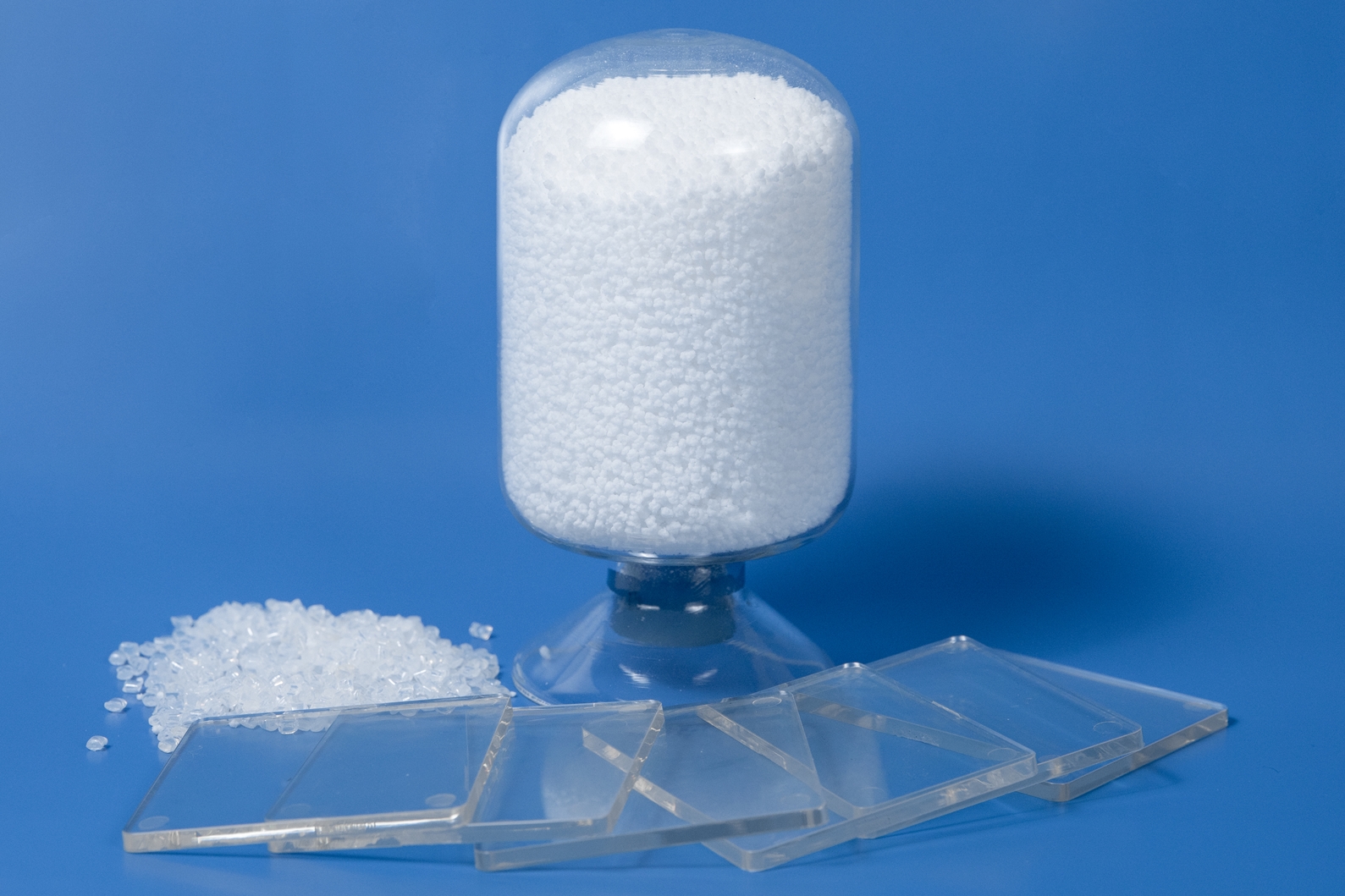 ▲ Eco-friendly and transparent flame retardant PC resin developed by Samyang Corporation and a transparent panel thinly processed by using this resin.



Samyang Corporation aims to achieve eco-friendliness and high performance by developing environment-friendly, transparent flame retardant polycarbonate (PC). PC is a type of engineered plastic typically used in interior and exterior materials of cars and home appliances, as well as soundproof walls, parts in medical devices, etc. as it is transparent and strong against shock and heat.



Samyang Corporation (Head: Kang Ho-sung), a chemical and food division of Samyang Group, announced on the 20th that it has successfully developed eco-friendly and transparent flame retardant PC, free of toxic substances, and established a full-fledged mass production system. The eco-friendly and transparent flame retardant PC will be manufactured at Jeonju EP Plant of Samyang Corporation and Jeonju Plant of Samyang Kasei.



Flame retardant PC is necessary in products that generate heat or are vulnerable to fire. Materials vulnerable to fire may lead to greater damages such as secondary fire and toxic gases, so home appliances, interior and exterior materials in cars, construction materials, helmets, etc. assure safety by using flame retardant materials.



Typically, a flame retardant substance is added to produce a transparent flame retardant PC, but this reduces transparency and impact strength, which are the strengths of PC. The environmental pollution caused by the substance is another issue. Halogen substances such as chlorine and bromine, which are also flame retardant substances, generate toxic gases when burned. In the past, non-halogen substances were regarded as an alternative but, in recent years, these too have been the center of a controversy with respect to their harmful effects.



Samyang Corporation's eco-friendly and transparent flame retardant PC was developed based on silicone PC (Si-PC) that the company had localized in 2012 by changing the substance bonding structure without adding any flame retardant materials. Thus, it shows more outstanding impact strength and chemical resistance at low temperatures than typical PC.



It has also satisfied "V-0" standard, which is the highest grade in the "UL 94" vertical burning test. UL 94 is a plastics flammability standard developed by "UL (Underwriters Laboratories)" in America, a safety standard development and authorization agency, and V-0 grade is given only to the plastics on which burning stops within 10 seconds of setting a vertically placed specimen on fire.



With its superior shock resistance, chemical resistance and transparency at low temperatures compared to existing kinds of transparent flame retardant PC, Samyang Corporation plans to target all markets in need of aforementioned properties, including electricity and electronics, automotive, outdoor lighting and displays, electric vehicle charging stations, exterior materials of airplanes, interior and exterior materials of buildings, and medical devices.



In addition, it maintains similar mechanical properties as the common PC even if it is processed in thin films, including sheets and profiles, of about 1mm in thickness, which enables it to be utilized not only for functional packaging materials but also in many other industries that require transparency and flame retardancy.



For the expansion of the eco-friendly, flame retardant PC market, Samyang Corporation will provide it in the form of base resins (plastics constituted of single materials) to other chemical corporations. The chemical companies supplied with the base resins will be able to manufacture and sell compounds (products with improved properties by mixing base resins with additives) according to the features needed by final products in construction, automotive and aviation industries.



A representative of Samyang Corporation stated, "Samyang Corporation's eco-friendly and transparent flame retardant PC does not use any toxic flame retardant substances so it is free of environmental issues while maintaining the strengths of common PC that can be processed in a transparent and thin manner. Because it is developed based on silicone PC with great shock resistance at low temperatures, it may be used in a variety of applications, including building exterior materials and outdoor lighting."